Since the creation of EPA in 1970, companies have seen growth in the number of environmental regulations, tied key performance indicators more closely to regulations, and shown global acceptance that government-led initiatives are required to drive change.
These conditions led businesses to adopt EHS Compliance Programs: to meet the requirements of increased environmental regulation at the global, national, and local levels and have the processes in place for employees to be accountable to corporate goals when it comes to compliance.
In this blog series, RegScan will examine the six pillars of an EHS compliance program. The first four are implementation pillars meant to provide consistency across a business, create employee-level accountability, and offer transparency to regulators, auditors, and stakeholders. The last two are verification pillars which demonstrates that the organization is serious and committed to implementing its Compliance Program fully and effectively.
Implementation Pillar #4: Inspections
If you have followed along with this series, it is possible you are feeling pretty good about where your EHS compliance program is. You have a baseline of Legal Registers as your starting point. From those regulations, you may have determined requirements and obligations that have applicability to your business. At this stage, your employees have their pre-defined and regularly updated tasks, so you may (incorrectly) think that your EHS compliance program is ready to be implemented.
That brings us to the fourth pillar of compliance and the final implementation pillar: Inspections.
Based on the first three pillars, employees know they must perform a fire extinguisher inspection or an eyewash station inspection, and they even know the frequency at which they must complete such inspections, but they are missing the how and the what of EHS compliance inspections:
• What must be inspected?
• How should the inspection be performed?
• Which form must be completed?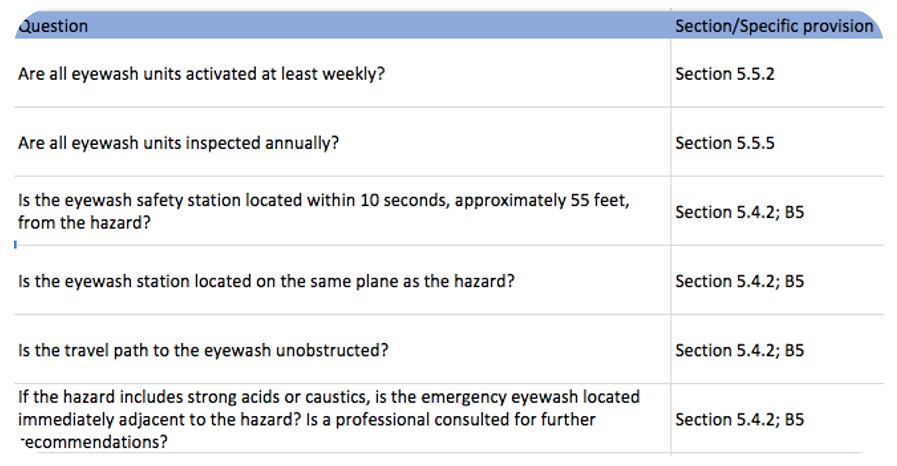 One easy way to manage inspections for businesses and their facilities? Inspection checklists. These checklists can cover several areas critical to your business, including but not limited to AEDs, Aerial Devices, Confined Spaces, Cranes, Drench Showers, Emergency Showers, Excavations, Eyewash Stations, First Aid/Medical Supplies, Forklifts, Hand & Power Tools, Hoists, Ladders, Mechanical Power Transmission, PPE, Portable Fire Extinguishers, Saws, Scaffolds, SCBA, Signs & Barricades, and Slings.
When your organization is ready for EHS compliance inspections, RegScan has assembled a pre-defined list of inspection items based on Regulations, Standards, Manufacturer's Requirements, and other best practices. Inspections are tied to the initial Legal Registers and the requirements and tasks identified by an organization. Within RegScan FLEX, inspection checklists are updated when affected by a regulatory change.
Now that you have everything you need for implementation of an EHS Compliance Program with these four pillars, stay tuned for our verification pillars in the next part of the series.