RegScan gives EHS professionals the most complete and well-organized tool to implement compliance within a facility and company. Companies will have access to full-text regulations and customizable EHS alerts allowing users to easily research specific regulatory citations, identify, monitor, and determine relevance of regulatory changes, and create legal registers. 
Full-text regulatory content (or links to full-text regulations) is currently available for all 50 US Federal CFR Titles and U.S. Codes, all equivalent state-level EHS regulations (50 states, DC & Puerto Rico), Canada and Mexico.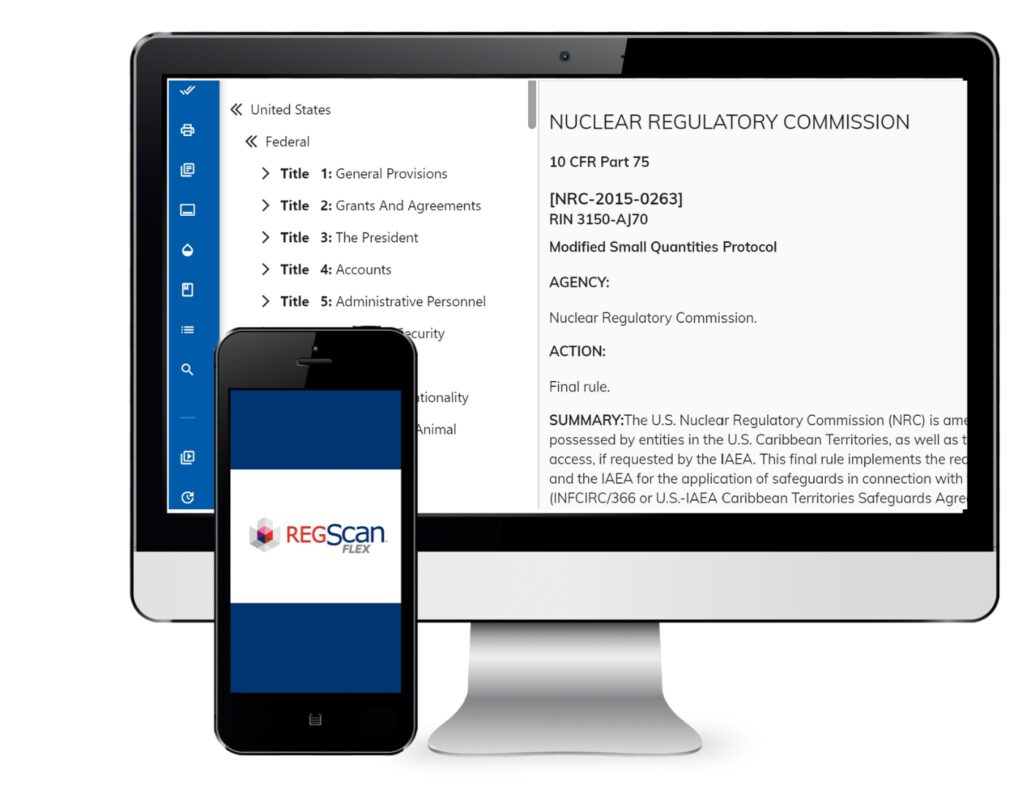 Why use RegScan?
Customized access to all 50 US Full Text Federal CFRs and all State Level Equivalents (for all 50 states, DC, PR) Canada and Mexico as well as US Federal and State EHS guidance documents (including but not limited to forms, fact sheets, guidance, and bulletins).
Ability to easily create legal registers and track changes at the regulation and citation level.
Easily understand the evolution of changes and impact on operations and facilities both historical and predicative through strike-through and EHS Alert services.
Support ISO 9001, ISO 14001, and ISO 45001.
RegScan Features
Quickly create legal registers either through operation applicability questionnaires and/or directly through regulation lists
Ability to track changes on specific full-text final rules and receive email notifications of changes to regulations of interest.
Daily updates when changes to US Federal Regulations occur.
Strikethrough tool allows easy comparison of new and old versions of regulations. Effortlessly see the amendment history of a regulation by comparing it with an earlier or future version.
Responsive design so you can use RegScan FLEX wherever you are with any device you wish.
Enterprise access with the flexibility to set up individual user preferences and profiles.
Email notification of all proposed changes published in the federal and state registers and equivalent country publications.
Provides filtered report of regulatory changes based on title, jurisdiction, key word, date or any combination.
Custom Search functionality by agency, title, jurisdiction, key word, date, or any combination. Users also have ability to save favorite searches and views.