The complete EHS compliance solution
RegScan FLEX is RegScan's online subscription platform for customers who want EHS compliance and sustainability made easy. RegScan FLEX is a digital regulatory research and alert system that allows users to access global regulatory information on a single platform and in multiple languages.
Users can customize legal registers and audit protocols for more than 270 jurisdictions, and the user interface can be accessed in twelve languages.
New features include:
Access to RegTracker: an easy-to-use interface to view global regulatory changes and manage compliance across multiple facilities and jurisdictions.
Mobile-friendly: responsive design so you can use RegScan services wherever you are with any device you wish.
Quick Access: customers can now save their most reviewed regulations for easy access from anywhere on the platform.
Enhanced Strikethrough capability: Easily compare new and old versions of regulations
Customization: each user can set up their own preferences and profile
Custom Search: allows you to easily find content you're looking for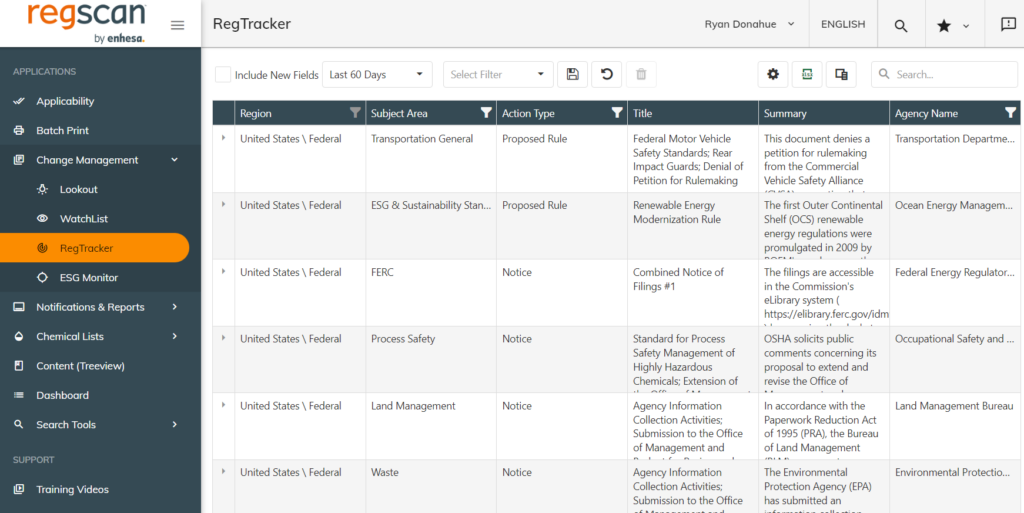 RegScan FLEX allows users access to the regulatory content, legal registers, full-text regulations, and audit protocols they need for easy EHS compliance.
Users will also be provided with multiple methods for tracking regulatory changes. Receive change notifications via email alert or on your personalized dashboard. Export your content via web services to your online EHS management system.
To learn more about RegScan FLEX, sign-up for a free demonstration. The team at RegScan will show you how our services can help you stay up to date on your EHS compliance obligations.