RegScan's NEW RegTracker gives users access to an easy-to-use interface to view global regulatory changes, including federal and state requirements, making it a must-have feature for anyone managing compliance across multiple facilities and jurisdictions.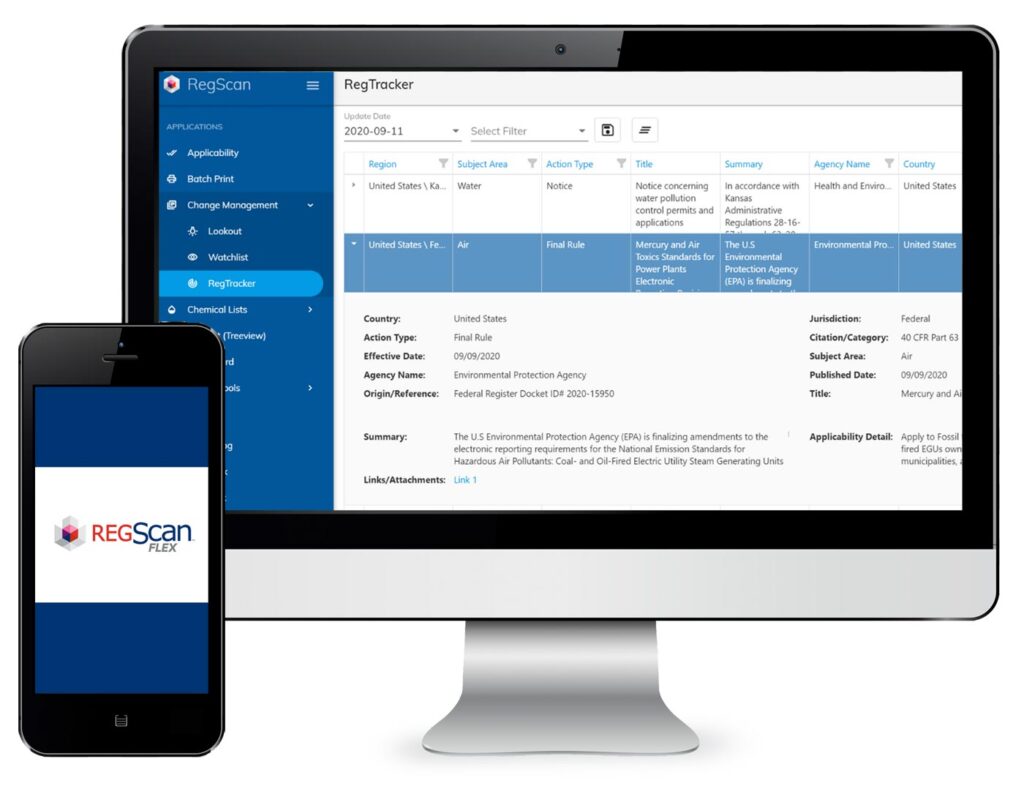 RegTracker is seamlessly integrated into the new RegScan platform and is supported by RegScan's expert coverage of more than 270 global jurisdictions. Updated weekly, clients can expect a customized report on the regulatory changes for the jurisdictions they need to follow. The customized report is available for download in Microsoft Excel format and viewable on the platform.
RegScan's RegTracker includes coverage of each reported action, including:
Originating Jurisdiction
Action Type
Regulatory Citation Affected
Effective Date
Topic (Air, Water, etc.)
Title of Action
Summary of Action
Over 250 Jurisdictions Covered!
RegTracker has you covered! You'll have access to U.S. federal regulations, regulations across all 50 states, and select U.S. territories. RegTracker also covers global regulatory changes across Canada and Canadian provinces, the EU, Asia, Australia, Africa and South America. Customers will select which jurisdictions matter to their business.
Topics Covered
US Topics:
Air
Chemical Management
COVID
HazMat Transport
Management Systems
Safety
Transportation
Waste
Water
and much more…
International Topics:
Above and Below Ground Storage Tanks
Air
Asbestos
Chemical Management
Community Noise
COVID
Environmental Product Stewardship
Flora and Fauna
Food Safety
and much much more…
Action Types and Citations Affected
RegTracker will give you all Notices, Proposed Regulations, and Final Rules for each reported action. Users will also be provided with the regulatory citation affected and effective dates.
Learn more by signing up for a demo!