Since the creation of EPA in 1970, companies have seen growth in the number of environmental regulations, tied key performance indicators more closely to regulations, and shown global acceptance that government-led initiatives are required to drive change.
These conditions led businesses to adopt EHS Compliance Programs: to meet the requirements of increased environmental regulation at the global, national, and local levels and have the processes in place for employees to be accountable to corporate goals when it comes to compliance.
In this blog series, RegScan will examine the six pillars of an EHS compliance program. The first four are implementation pillars meant to provide consistency across a business, create employee-level accountability, and offer transparency to regulators, auditors, and stakeholders. The last two are verification pillars which demonstrates that the organization is serious and committed to implementing its Compliance Program fully and effectively.
Verification Pillar #1: Audit Questions & Auditor Guidance
If you have read this far, you have a good understanding of the first four implementation pillars: Legal Registers, Requirements & Obligations, Tasks, and Inspections. If your organization has reached this point, you have hopefully created employee-level activities and accountability for your EHS Compliance Program. Now that you are here, you need to be able to demonstrate your program has been implemented fully and effectively.
Which brings us to the fifth pillar of an EHS Compliance Program and the first Verification Pillar: Audit Questions & Auditor Guidance. This is the dreaded Audit portion.
Auditor questions and auditor guidance can usually be found in form of Audit Checklists. The checklist guides the user through a series of questions specifically created for a given location or facility. For example, US Health & Safety Compliance Indicator Checklists (CIC) are designed to help the user identify existing or potential health and safety issues and meet legal responsibilities in relation to health and safety in the office.
It is much easier to understand an Audit Question when it is accompanied by a bit of Auditor Guidance, such as context or helpful definitions. This pillar looks back to the second implementation pillar (Requirements & Obligations) by reviewing all the requirements that the business or site previously deemed applicable and asking, "what do we need to verify?" By doing this, an auditor can perform a "point in time" check on potential Requirements and create a snapshot summary of an organization's compliance status.
RegScan's Audit Solutions not only provide Audit Questions and relevant Auditor Guidance for those questions, but our service also provides links back to the individual regulatory requirements as well as the underlying full-text regulations.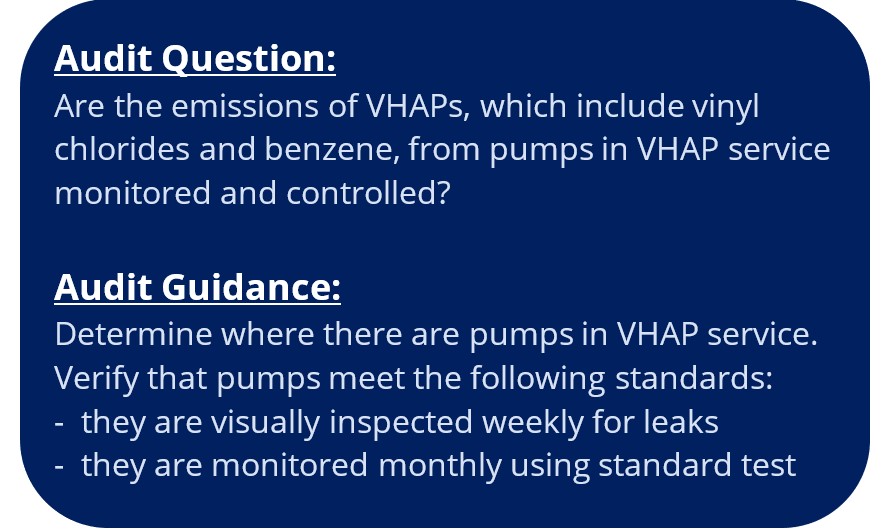 In the above example, there is an Audit Question, and it is accompanied by Auditor Guidance describing what should be verified during the audit. RegScan generally provides this audit content based upon the Legal Registers and regulatory requirements, but our team of experts can customize an audit depending on a client's need to incorporate business policies and objectives.
RegScan produces both Audit Questions and Auditor Guidance in checklist format as they go hand in hand. In preparation for an audit, EHS and non-EHS professionals can use these checklists to support and audit or to conduct elf-assessments.