As a follow-up to our Top EHS Trends for 2022 webinar, RegScan is taking a closer look at some of the activities shaping the EHS compliance and sustainability space this year. This blog post will focus on the top EHS trend of increasing air regulations.
Looking back at the 2021 data from our popular RegTracker service, air regulations saw plenty of activity across the globe last year. More specifically, there were 573 total Final Rule changes across the 250+ jurisdictions that RegScan covers. Globally, we recorded 422 Proposed Rules and 281 Notices last year. Taking a closer look at the US numbers, we saw 357 Final Rule changes with more than half of those (244) coming in at the US Federal level.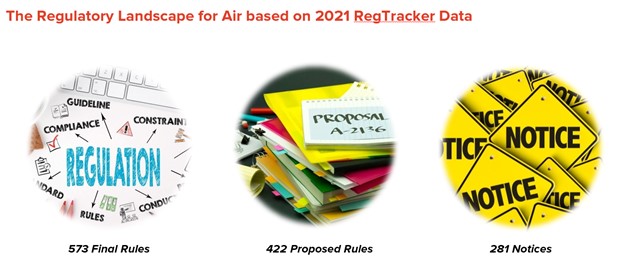 One of the topics we highlighted in our webinar were some of the upcoming changes that we are expecting to see among the Biden administration in its second year. The administration will likely make managing greenhouse gas emissions a top priority. As a refresher, in August of 2021, the EPA proposed revisions to current greenhouse gas emissions standards. These standards apply to passenger cars and light trucks for the model years 2023 – 2026. The proposed standards aim to reduce emissions as well as other criteria pollutants, while also reducing consumer fuel costs, and strengthening federal GHG emission standards for passenger cars and light trucks with a goal to:
Achieve significant GHG emissions reductions along with reductions in other pollutants
Public health and welfare benefits
Lower fuel costs
Incentivize technology to produce cleaner vehicles and encourage more hybrid and electric vehicle technology
Also included in the management of emissions, methane gas emissions remain to be a hot topic as it becomes a priority for the EPA in advancing Biden's commitment to action on climate change. We first saw the proposed changes to these emissions introduced by Biden in November of 2021 at COP26. This plan entails an outline on a comprehensive new protection plan to significantly reduce pollution from the oil and natural gas industry while also including reductions from existing sources nationwide. This proposed new Clean Air Act rule would lead to significant, cost-effective reductions in methane emissions and other hazardous air pollutants that have the potential to endanger communities and public health. More specifically, the proposal builds on the work of leading companies that are using the latest cost-effective technology to reduce methane emissions in the field and leverages lessons from the work of some major oil- and gas-producing states that require, or are proposing to require, oil and gas operations to reduce methane emissions. The proposed rule would also reduce 41 million tons of methane emissions from 2023 to 2035, the equivalent of 920 million metric tons of carbon dioxide. The EPA intends to issue the supplemental proposal in 2022 and plans to issue a final rule before the end of 2022.
Looking to track air regulations better in 2022? RegScan EHS Alerts services available as part of RegScan FLEX help EHS&S professionals stay up to date on the regulations impacting their business.